Libero™ Master Aluminum Telescopic Competition Volleyball System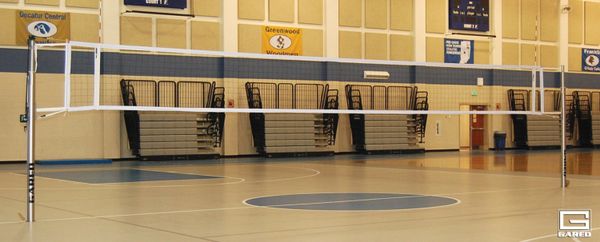 Libero™ Master Aluminum Telescopic Competition Volleyball System
Top-of-the-line, premium volleyball system designed for competition play • 4" O.D. telescopic uprights are constructed of a strong, yet lightweight, anodized extruded aluminum for superior support and long life • Features an internal spring assist guide which allows the telescoping posts to glide easily up or down for precise height adjustment without having to remove the net • Easy-to-operate ratchet winch sets net tension • New 3-point net attachment makes set up quick and easy • Height indicator decal includes Men's (7' 11 5/8"), Women's (7' 4 1/8"), and Junior's (7') net heights – applied in the field to your facility conditions • Exclusive wedge lock holds sliding rail system securely • One, two, and three court systems available • Meets US VBA , NCAA , and NFHS competition specifications. 10 Year limited Warranty on posts and 3 Year limited Warranty on winch assembly, locking rails, floor sleeves and covers.
7300 Libero™ Master Telescopic System Features
1. Competition volleyball system with telescopic post
2. Telescopic design will keep net at top of post no matter what height off the floor
3. GARED's exclusive direct attach winch strap for hassle free set-up. No additional cables or chains required.
4. Heavy duty ratchet winch for smooth and easy net tension adjustment handle that fold for added safety
5. Cam lever with exclusive GARED® wedge lock design holds net securely with no "creeping"
6. Internal spring assist to easily adjust the telescopic post
7. Lightweight 4" O.D. aluminum posts with inset grooves for added strength
Upright Safety Pad Colors
Stock Colors: Royal Blue, Navy Blue, Purple, Red, Black, Forest Green, Maroon
Non-Stock Colors: Kelly Green, Gray, Marine Blue, Orange, White, Yellow, Beige
7300: Master Telescopic One -Court Volleyball System
Weight: 133 LBS, Truck, Freight Class 100, 48 Hour Ship
One -Court System includes:
• (1) 4" O.D. Master Telescopic Upright
• (1) 4" O.D. Master Telescopic Upright with Winch
• (2) 4" Floor Sleeves
• (2) Swivel Brass or Chrome Cover Plates
• (1) Competition Net
• (1) Pair of Antennas and Sideline Markers
• (2) Upright Safety Pads
• (1) Set of Four Cable Covers