Fold-Up Wall Mount Package, Extension, 1245T, 1000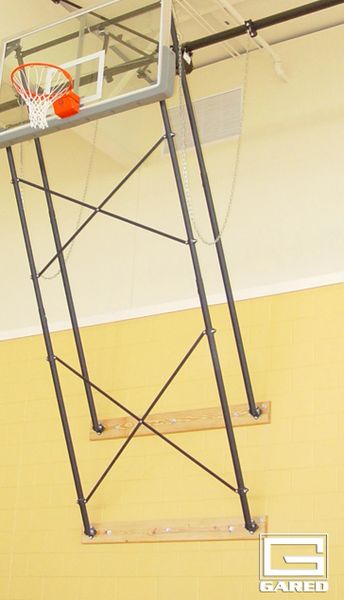 Fold-Up Wall Mount Package, Extension, 1245T, 1000
4 Point Wall Mount: GARED Four-Point Wall Mount systems incorporate four point attachment for backboards with 36" x 63" or 20" x 35" mounting centers, which is compatible with GARED's complete backboard line • 4/0 upper safety chains with heavy malleable turnbuckles provide additional support • Telescopic design allows for complete adjustability and ease of installation • Structural wood mounting pads included • Mounting hardware provided by others • Board and goal are not included unless wall mount package is purchased • Height adjuster is optional.
2400-4060ST: 4 Point Fold Up Wall Mount Series
Weight: Varies, Truck, Freight Class 70, 48 Hour Ship
• Stores in fold-up vertical, compact position against wall to prevent interference with other court activities.
• In play position, unit locks into stationary 4 point position.
• Includes manual winch with crank handle; electric hoist and safstop are optional.
• Standard Extension Length: 4' - 6', 6' - 9', or 9' - 12' for 63" x 36" Mounting
• 1245T Steel Frame Backboard with Target & Border
• Scholastic 1000 Flex Goal