42" x 72" Regulation Glass Backboard with Aluminum Frame & Perimeter LED Light System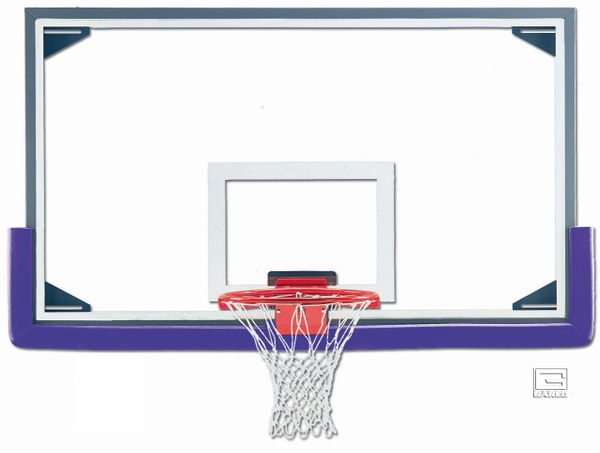 42" x 72" Regulation Glass Backboard with Aluminum Frame & Perimeter LED Light System
When choosing the right glass backboard for your facility, choose GARED®. Our line features the most comprehensive options for every play environment. Not all glass backboards are created equally, which is why all indoor GARED® glass backboards feature 1/2" tempered glass, fired- in target and border and 'Made in the USA' stamp of approval. Regardless of size, shape, frame type or application - we can ensure that you will be creating premium level of play. When pairing glass backboards and rims, GARED® recommends that you choose one of our universally compatible breakaway rims to protect the life of your backboard.
Exceeding our competitor's aluminum framed board 650 lb pressure breaking point - GARED's aluminum framed backboard series is the strongest and relieves the worries of rusting. In addition, GARED's elite aluminum OuterLimit Pro backboards have never broken - even under the pressure of 2 decades of play in NBA arenas. Our aluminum framed line includes regulation and pro level 42" x 72" and 48" x 72" backboards. All backboards meet NCAA, NAIA & NFHS specifications. GARED 'S Limited Lifetime & 10 Year Warranties cover all aluminum-framed glass backboards.
The GARED® Perimeter LED light strips, neatly housed inside custom PVC extrusions, are cleanly interconnected to eliminate the clutter usually found in competitors' systems • Affixed to the outer most part of the back of the glass backboard, the LED lights are easily seen without blocking the view from behind the glass or interfering with the play • They comply with the most recent recommendations from FIBA, NCCA and NBA • The kit includes LED light strips, adapter cable and 120 or 220 Volt AC power supply with 24 Volt AC output • The lights are turned on and off from a signal sent from the shot clock and scoreboard • Please specify shot clock and score board manufacturer and model number • Purchase new board with the perimeter LED lights factory installed – LXP4200LED & AFRG42LED.
AFRG42LED: 42" x 72" Regulation Aluminum Framed Glass Backboard, Limited Lifetime Warranty
Same as AFRG42 with our perimeter LED light system, Limited Lifetime Warranty on glass backboard only