42" x 72" Perforated Steel Rectangular Backboard with Target & Border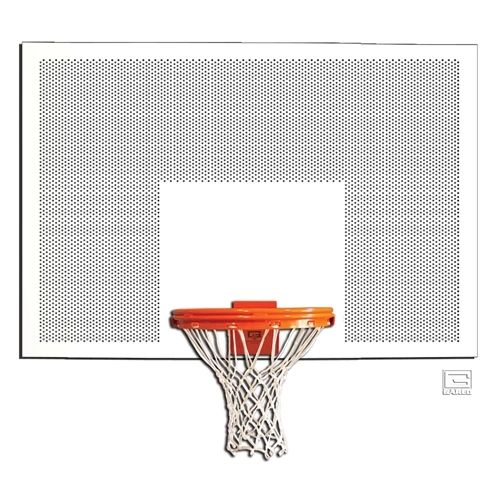 42" x 72" Perforated Steel Rectangular Backboard with Target & Border
When choosing a backboard not constructed with glass, understanding the inherent characteristics of the material will ensure you are picking the correct backboard for your play environment.
GARED's steel line of backboards are ideal for unsupervised and urban play environments. Steel provides an unwielding foundation for your outdoor system. Although the rebound effect of steel is the least similar to glass, the sturdiness of the material will stand up to the toughest competition. Our line of steel backboards features every standard size.
GARED's Perforated Steel Backboard is designed especially for outdoor use and ideal in windy locations • 11 gauge steel with ¼" staggered perforations ½'' apart allow increased airflow through the board for a truer ball bounce • Board is attached to a steel tubular frame for added support • Direct mounting design with integral holes allow permanent attachment of board to post and allow for goal replacement without removing board • Compatible Mounting: Gooseneck & Straight-Arm Posts • Recommended Rims: 8550, 5500, 8800, 7550, 240, 39WO • For outdoor use.
1272PSB: 42" x 72" Perforated Steel Rectangular Backboard with Target & border, 10 Year Limited Warranty
5 x 5 Hole Spacing, Weight: 134 LBS, Truck, Freight Class 70, 24 Hour Ship