42" x 72" Clear Defense Treated Regulation Glass Backboard with Aluminum Frame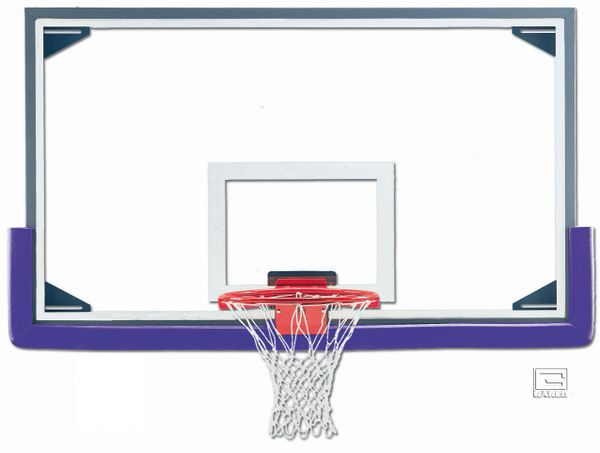 42" x 72" Clear Defense Treated Regulation Glass Backboard with Aluminum Frame
When choosing the right glass backboard for your facility, choose GARED®. Our line features the most comprehensive options for every play environment. Not all glass backboards are created equally, which is why all indoor GARED® glass backboards feature 1/2" tempered glass, fired- in target and border and 'Made in the USA' stamp of approval. Regardless of size, shape, frame type or application - we can ensure that you will be creating premium level of play. When pairing glass backboards and rims, GARED® recommends that you choose one of our universally compatible breakaway rims to protect the life of your backboard.
Exceeding our competitor's aluminum framed board 650 lb pressure breaking point - GARED's aluminum framed backboard series is the strongest and relieves the worries of rusting. In addition, GARED's elite aluminum OuterLimit Pro backboards have never broken - even under the pressure of 2 decades of play in NBA arenas. Our aluminum framed line includes regulation and pro level 42" x 72" and 48" x 72" backboards. All backboards meet NCAA, NAIA & NFHS specifications. GARED 'S Limited Lifetime & 10 Year Warranties cover all aluminum-framed glass backboards.
We offer the largest and most complete family of regulation size glass backboards utilizing the GARED® Glass Retention System. This remarkable application greatly reduces the dangerous shower of glass pieces typical when backboards shatter – and greatly reduces the chance of injury to players, spectators, coaches and officials. Our Glass Retention System is as simple as it is effective: A clear polymer laminate is applied to the backside of the backboard and does not affect play in any way. Purchase new boards with the Glass Retention System factory installed – LXP4200CD, AFRG42CD. Even the best -manufactured glass Backboards will break occasionally – usually because of abuse, vandalism or improper installation.
AFRG42CD: 42" x 72" Regulation Aluminum Framed Glass Backboard, Limited Lifetime Warranty
5" x 4" Hole Spacing, Weight: 184 LBS, Truck, Freight Class 85, 24 Hour Ship