4-1/2" O.D. Braced Rear Mount Gooseneck Post, 4' Extension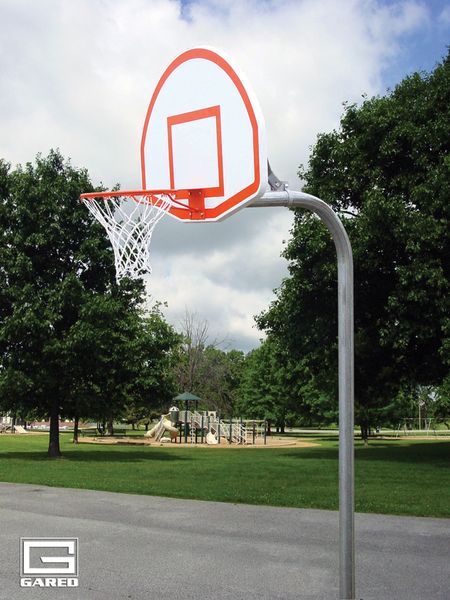 4-1/2" O.D. Braced Rear Mount Gooseneck Post, 4' Extension
Are you building a basketball court, but unsure where to begin? When searching for an outdoor system, consider play environment, usage, weather elements, and budgetary concerns. GARED® makes it easy by offering three levels of outdoor posts and packages – Economy, Standard-Duty, and Heavy-Duty – so you can choose the outdoor system that is most suitable for your application. Outdoor Posts
Build your court by first choosing an appropriate backstop - GARED® outdoor posts are offered in several styles, sizes and safe play zones to fit your facility's needs • Posts are formed from heavy wall galvanized steel for superior protection against weather elements • Each post is approximately 13' tall, with 3' to be installed in a 4' x 2' concrete footing to ensure long-lasting post stability • 5-9/16" and 6-5/8" O.D. posts are comprised of Schedule 40 steel, providing unmatched strength and durability to the units • All posts contain a backboard mounting plate welded to post end for hassle-free attachment to most backboards • Powder-coated posts available – please call for quotation • GARED post padding is optional and recommended.
GN45R: 4 1/2" Braced Rear Mount Gooseneck, 25 Year Limited Warranty
Weight 159, Truck, Freight Class 50, 24 Hour Ship
• 4 1/2" O.D.
• 4' Foot Extension
• Rear Mount Compatible
• Round post with traditional gooseneck design
• Fixed height
• Braced units include a V-brace with attachment hardware to eliminate backboard vibration
• Board and Goal not included